What Is Gamehole Con?
Gamehole Con is the largest tabletop gaming convention in the upper Midwest.
Tabletop gamers from around the country gather each November in Madison, WI for this carnival of gaming. Gamehole Con is all about tabletop gaming and all the fun that goes with it. The convention features role-playing games, board games, fantasy and historical miniature gaming. Gamehole Con is for the fantasy and adventure tabletop gaming enthusiast. Gamehole Con features the best guests in the industry, an unbelievable Dealer Hall and of course, lots and lots of gaming! If you are a tabletop gaming fan, do not miss Gamehole Con!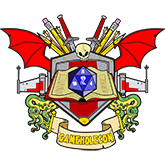 Gamehole Con is Sponsored By
From The Newsletter!
Subscribe to the Newsletter
---
Plan Your Visit to

---
Please see the following resources to make your travel to Madison memorable! Visitmadison.com has itineraries designed with you in mind, maps to help you find your way, a visitor guide to help you with your planning, and an array of restaurant options to complete your perfect travel experience.
First time to Madison? Experience the magic of Madison through this video, which showcases some of Greater Madison's finest features.