What Is Gamehole Con?
Gamehole Con is the largest tabletop gaming convention in the upper Midwest.
Tabletop gamers from around the country gather each November in Madison, WI for this carnival of gaming. Gamehole Con is all about tabletop gaming and all the fun that goes with it. The convention features role-playing games, board games, fantasy and historical miniature gaming. Gamehole Con is for the fantasy and adventure tabletop gaming enthusiast. Gamehole Con features the best guests in the industry, an unbelievable Dealer Hall and of course, lots and lots of gaming! If you are a tabletop gaming fan, do not miss Gamehole Con!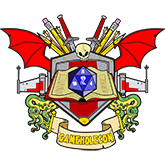 Gamehole Con is Sponsored By
From The Newsletter!
Subscribe to the Newsletter
---
Plan Your Visit to

---
Please see the following resources to make your travel to Madison memorable! Visitmadison.com has itineraries designed with you in mind, maps to help you find your way, a visitor guide to help you with your planning, and an array of restaurant options to complete your perfect travel experience.
First time to Madison? Experience the magic of Madison through this video, which showcases some of Greater Madison's finest features.
October 19th - 22nd, Alliant Energy Center, Madison, WI!
Important Links
HOTEL INFORMATION is now available.
VENUE INFORMATION is available.
SPECIAL GUESTS and ARTIST information is definitely worth a peek.
GAMES LISTINGS will be updated as more information becomes available.
VOLUNTEER to help out at Gamehole Con.
FAQs for helping to answer all the pressing questions of the day.
OUR OFFICIAL STORE is currently stocking all of your Gamehole Con fashion related needs.
MARKETING AND SPONSOR INFORMATION is now available for our current year's convention.
Information On Our Kid's Track is now available!
Information regarding this year's Adventurers League can be found here.
2023 Important Dates
Event Dates - Oct. 19th - Oct. 22nd
Housing Portal Opens - January 31st at 12PM CST
Event Submissions Open - April 15th noon CST
VIG Renewals Open - May 13th noon CST
General Badge Registration Opens - June 3rd noon CST
VIG Event Registration Opens - July 1st noon CST
General Event Registration Opens - July 15th noon CST
Close of Printed Badge Pre-Registration - September 12th
Close of Last Call Badge Pre-Registration - October 6th