Marketing and Sponsorship opportunities for Gamehole Con 2022 will be forthcoming soon! Until then, please review our 2021 information.
---
Sponsorship and Marketing Opportunities for Gamehole Con 2021 (October 21-24)
In order to take advantage of any of these opportunities, you'll need to submit an application through our website, it's pretty quick and painless.
If you do not already have an account on our site, you will have to create one here. It just takes a moment, we only require a name and email address.
From there, to apply for a spot in our Exhibitor Hall, Demo Row, Artist Alley, or Podcast Row, please visit this link and fill in your business details if you haven't already. Once you've filled out your information and saved it, you will need to click the "Apply" button, make your selections, and submit it. Your business information is saved from year to year, so please make sure to check that the information is up-to-date before filling out the application.
Virtual Gamehole Con was a success in 2020, but it looks like everything is on track for us to return to in-person gaming in 2021 and we are thrilled to be back. Gamehole Con 2019 had continued our upward growth trend as the largest tabletop gaming convention in the region. Over 10,000 game tickets were sold to more than 4,000 attendees from around the country. We had the largest D&D Adventurers League hall in the country and worldwide. The Con grew by 10% despite the holiday weekend and poor weather. Positive feedback about the convention is all over social media and everyone is excited for Gamehole Con 2021:
I just wanted to reach out and say what a great time my friends and I had at our first time to this con last weekend. Everything was setup and run so well. Everyone was so friendly and fun. We are definitely coming back next year. Anyway, just wanted to give you guys a nice compliment and positive feedback. Thanks again.
I wanted to write that my son and I had a great time this last weekend at Gamehole Con. The Kid's Track games are awesome.
Played so many games. Was amazing! Thank you to all the staff and volunteers for putting on a fun convention!!
Thanks to Alex and the rest of the Gamehole Con staff and volunteers. This was the best Con experience I've ever had, and that goes back almost 30 years. Every year I think there's no way Gamehole can improve, and every year it does. I'm beyond excited for next year and it's going to be a tough year to wait.
Awesome Con. First time as a vendor anywhere and it went amazingly well. Couldn't be happier with the fantastic people, skilled vendors and amazing #gameholecon staff!
Thank you all for the best GameHoleCon I ever could've imagined! It was my first time (and Nord's first time in the exhibition hall) and I had an absolute blast.
GameholeCon simply has no equal! WHAT an amazing show!!! A sincere THANK YOU to every single person involved, from Alex and Josh, right on down to the volunteers helping stuff bags. You guys seriously put on the best show in gaming, year after year. We thought everything ran perfectly and the gaming was fantastic, as usual. And if the lack of concerns or complaints on here is any indication, it seems that others think so too. Had way too much fun with way too many people to mention, but we already can't wait till next year! How about bumping it up to 5 days?
Gamehole Con 2021 will once again be held at the Alliant Energy Center Exhibition Hall in Madison! For 2021, we will again expand our vendor space and plan to welcome True Dungeon back for the 2021 Con. The exhibitor hall sold out quickly in 2019 and spaces will go even faster this year. Many past exhibitors have asked to come back and we have had many more exhibitors ask to take part in Gamehole Con 2021.
We invite you to join us for Gamehole 2021 and to take advantage of Gamehole Con's success. The following guide contains just some of the different ways you can be involved at Gamehole Con 2021. If you would like to participate in another way, just let us know!
We will start taking Exhibitor Applications on December 15th. To apply, go to: https://www.gameholecon.com/exhibitor and fill out the application. These applications are necessary for Dealer Hall, Demo Row, Artist Alley, and Podcast Row spots. Authors interested in space at the convention, please contact us directly at marketing@GameholeCon.com.
Official Lanyard Sponsor of Gamehole Con 2021 ($5,000)
There will be at least 5,000 badge-wearing people at Gamehole Con 2021. If you sponsor this, we will produce a high-quality 5/8th" lanyard complete with a bulldog clip from which every person at the show will hang their badge. You can choose the lanyard color and add a repeating logo including up to two colors. This is an amazing opportunity to get your company's logo in front of literally each and every attendee, exhibitor and Guest.
Official Sponsor of Gamehole Con 2021 ($500)
As an official sponsor of Gamehole Con you get:
Your logo listed on our site as a link to your website. Our homepage on desktop and mobile browsers will prominently feature your logo on a rotating basis with our other sponsors.
Your logo and web address listed in our physical and digital program.
Your logo as a link to your website will appear in each email blast that we send out. There is at least one such blast to our approximately 7,000+ recipients each month. As we get closer to our Con and have deadlines and other matters to announce, those blasts become more frequent.
A stand-alone "thank you" post on our Facebook page (~4,000 followers) and via our Twitter account (~2,200) acknowledging your sponsorship and support and telling everyone what makes your business great.
Lead Sponsor of Gamehole Con 2021 ($1,800) (SOLD)
As the lead sponsor of Gamehole Con you get:
Everything that is included with being an Official Sponsor above
You will be recognized as our Lead Sponsor in each and every one of our email blasts.
A full-page ad in our program.
Signage in the lobby of the Alliant Energy Center provided by you. We will work with you on the options of such signage.
Laughing Otyugh Inn Sponsor ($2,500) (SOLD)
This area is immediately adjoining our D&D Adventure League Hall. It is outfitted to with comfy chairs, drinks, and other amenities and will be seen by the thousands of attendees that play in our D&D AL Hall, which is one of the largest in the country. Our special/charity D&D AL games will be run in this space as well. It can be adorned with some signage and/or branded table coverings provided by you.
Official Reception Sponsor Gamehole Con 2021
We have several exciting party/reception sponsorship opportunities for Gamehole Con 2021.
Kick Off Party Sponsor ($2,000)
Our kick off party will be held in a ballroom at the Madison Sheraton hotel on the eve of Gamehole Con, Wednesday, November 4th. Included will be the space itself, a cash bar, and we will provide a half barrel of Spotted Cow beer to be served to our attendees free of charge. Nothing brings people to a party like free beer! At the Kick Off Party, you will have complete control of the programming. Do you want to give a talk/presentation? Great. Do you want to give away product? Certainly. Do you want to run demos? No problem. Do you want to put on some sort of AV demonstration? Sure, we can accommodate that. We can customize that evening's events to suit your purposes and we will heavily promote your sponsorship of this event.
Reception Sponsor ($1,000)
(SOLD)
Thursday (SOLD), Friday (SOLD), Saturday (SOLD) we throw a reception at the Clarion Hotel. At each reception, like the Kick Off Party above, we will provide a half barrel of Spotted Cow beer to be served free to all reception goers. In a more limited fashion than the Kick Off Party, you can give a brief demonstration, give product away, or just be a charming host of the evening. We will promote each of these events indicating which sponsor is sponsoring each evening's reception.
Exhibiting Space in the Exhibitor Hall ($500 - $600)
(SOLD)
Our booth spaces include exhibitor tables with chairs. One 10' x 10' booth space for the entire weekend is only $500 ($600 for a corner booth). If you require an electrical drop or hardwired ethernet for your booth these can be purchased directly through the Alliant Energy Center website. You also receive four universal Gamehole Con weekend badges for your business to use for the entire weekend.
Demonstration Areas in Demo Row ($200)
(SOLD)
Our demo row is very popular every year. As a result, we are going to expand this area. Each of these 15 tables can be purchased for the entire weekend for $200. These spaces are strictly limited to game designers demoing and selling their own games and supplements. No sales of third-party products are permitted - that is restricted to the Dealer Hall. Each space comes with a draped table and two chairs. You also receive two universal Gamehole Con weekend badges for your business for the entire weekend.
Custom Lounge Area ($2,500)
(SOLD)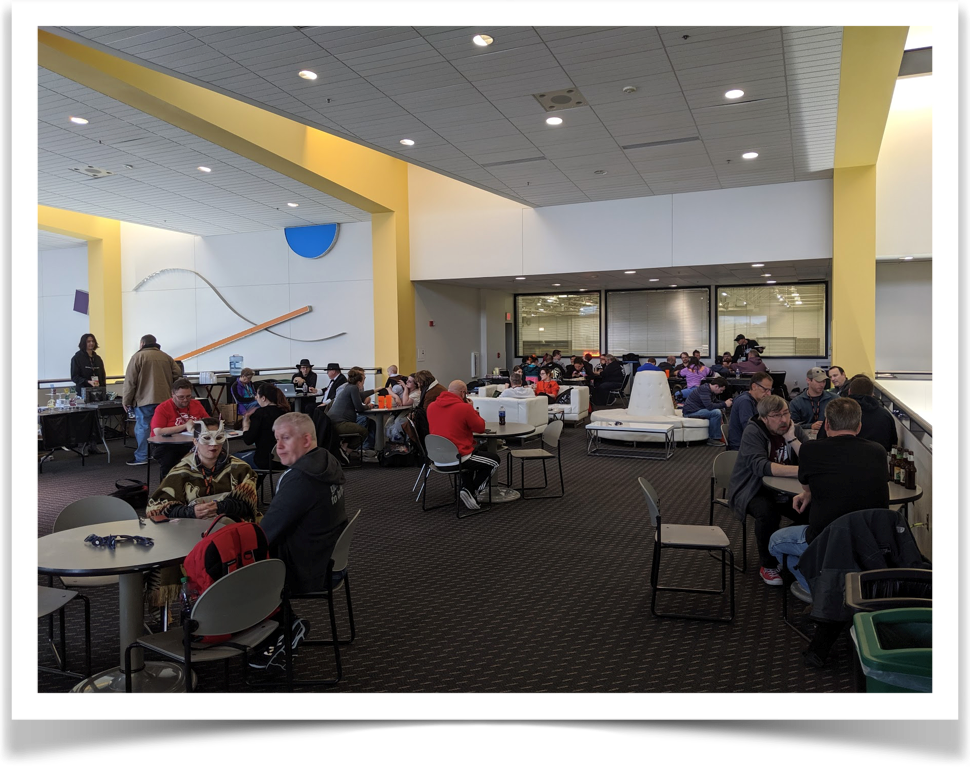 On the second floor of the convention center, we set up a lounge with couches and comfortable chairs, coffee and end tables and a cash bar that opens each afternoon. This space can be sponsored by your company making this the [YOUR NAME HERE] Lounge. We've had Fantasy Flight sponsor the space to run demos and Dirt Cheap Dungeons set up demos of their modular terrain along with a booth selling their products. We will provide the furniture and configure the gaming/demo/vendor tables in any way that you like. Signage downstairs will direct people to your lounge. Finally, the sponsor of this lounge can place a banner of their creation on the balcony overlooking the show that virtually every Gamehole Con attendee will see.
Official Sponsor of the GM/Special Guest Lounge ($3,000) (SOLD)
We love our GMs. That's why we offer a GM oasis at Gamehole Con each year. This is a private area for GMs and Special Guests to prepare, regroup, and relax. Your business can be the official sponsor of the GM's Lounge. Your name would be affixed to the lounge, you can place your company's materials, ads and products in the lounge, and you will receive special mention every time the GM Lounge is advertised.
Official Gamehole Con 2021 Program Ad Space
We produce a fantastic program every year. We offer it in both electronic and print form. We include a fabulous custom map, bios of all the special guests, and tons of other useful information for our attendees. Our program artwork is second to none. We release a digital copy of the program in the weeks before the show increasing your ad's exposure that much more.
Program ad prices for 2021:
Back Cover – Full Color - $700 (SOLD)
Inside Front Cover – Full Color - $500 (SOLD)
Inside Back Cover – Full Color - $400
Full Page – B&W - $300
Half Page – B&W - $200
Hotel Key Card Sponsorship ($1,000-$1,500)
There are hundreds of hotel rooms in the hotels surrounding the Alliant Energy Center - The Clarion Suites ($1,500), The Sheraton Madison ($1,000), and The Holiday Inn Express & Suites Central ($1,000). Sponsors at this level will be able to customize the art on each and every hotel room key issued in our room blocks over the week of Gamehole Con at one or more of these hotels. What an amazing marketing opportunity! Each and every attendee, vendor, or Guest staying at the hotel(s) you sponsor will have whatever information you want to deliver to them via their room card in their pockets/bags all weekend long.
Lobby Signage ($200-$400)
Have a cool display or sign you want everyone to see? Contact us about specific pricing and locations in our main lobby area!
Hanging Dealer Hall Sign ($500 – Space is limited to 2 signs)
1 Remaining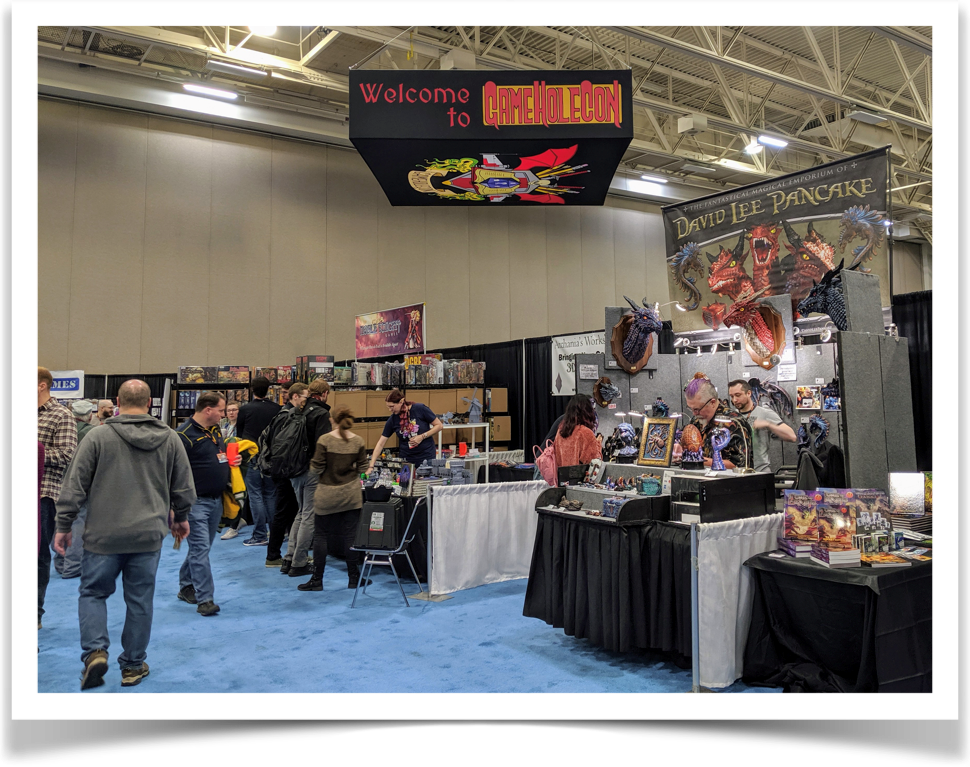 If you attended Gamehole Con 2019, you could not miss our elevated hanging display in the Dealer Hall. We can hang your sign in the Dealer Hall where each and every attendee will be able to see it. This is a powerful marketing opportunity. Don't miss this chance to get in front of literally thousands of your potential customers.
Hanging Dealer Hall Banner ($300 - Space is limited)
We can also offer to hang your smaller two-sided banners in the dealer hall, these can be placed directly above your booth to let your potential customers know where you are located.
Custom Window Clings ($175-$325 - Space is limited)
We can also produce custom window clings using your artwork for the windows on the second floor of the exhibition hall. These could either face outward to be visible to every attendee as they enter the exhibition hall or inward for our attendees' gaming on the second floor of the exhibition hall. Our second floor hosts most of our Special Guest games, our seminars, our streaming games, and the popular custom lounge. There are two sizes of windows available, a nearly square option for $175 (37.5" x 43.5") or a larger rectangular option for $325 (115.5" x 43.5").
Custom Door Clings ($500 Per set of 2 doors - Limit of 6 sets)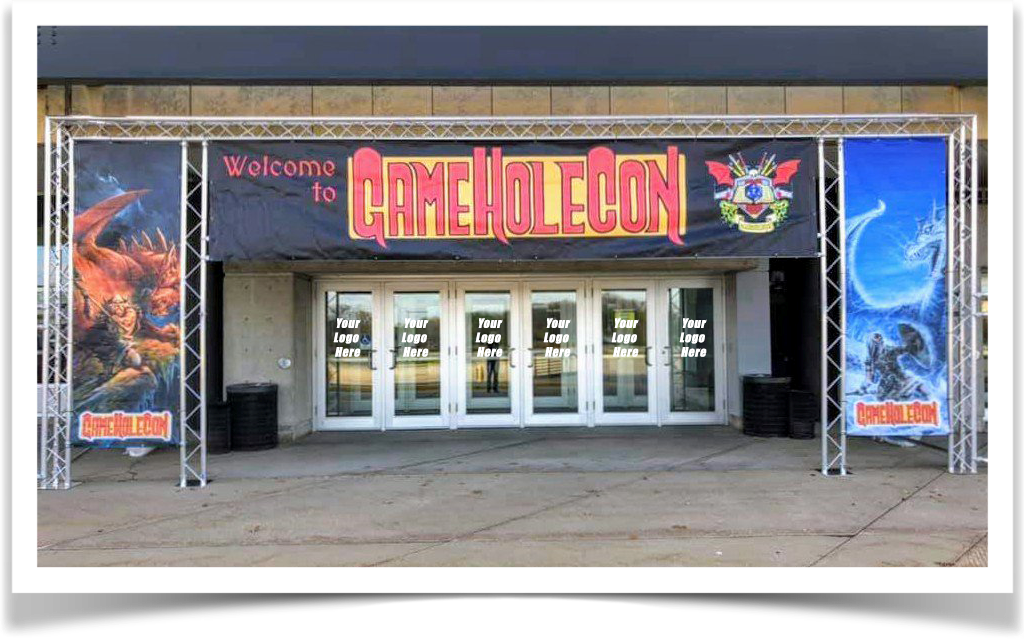 We can provide custom door clings using your artwork to be placed on either our interior or exterior main entry doors. These are the primary doors used to enter and exit the exhibition hall so your ad will be seen multiple times per day by thousands of attendees.
Custom Floor Graphics
We have the ability to provide custom floor graphics for your company or business. These can be placed in any number of high-traffic locations throughout the exhibition hall. If you are interested, contact us about prices and possible locations.
Custom Stair Graphics ($1,000-$3,000)
We have the ability to provide custom graphics for the stairway that accesses our dedicated streaming room, Special Guest gaming rooms, seminar rooms, custom lounge and many other games. These stairs are also visible as attendees walk through our main lobby meaning that virtually every attendee will be seeing your ad multiple times per day.
Anything Else?
Don't see a promotional item that you want? We are open to new ideas and happy to work with you to create custom solutions that will convey your company's message in a unique way.

Contact: Sean Riley, Director of Marketing